Erno Reinikainen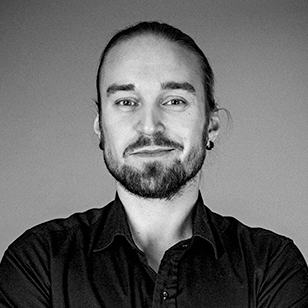 ERNO REINIKAINEN

SENIOR CREATIVE

TBWA\HELSINKI

FINLAND
NYF's powerhouse Grand Jury represents the most diverse brain trust of prominent advertising creatives from 50 countries around the globe. This esteemed peer-nominated panel provides a 360-degree creative view of the advertising world today and play an important role in selecting the World's Best Advertising. NYF's Grand Jury judge entries from over 100 countries worldwide and determine which creative campaigns move on to the medal round.
Grand Jury member Erno Reinikainen, Senior Creative & Partner for TBWA\Helsinki has over 10 years of experience in design and advertising agencies. Throughout his advertising career, he has worked as an Art Director and Lead Creative creating innovative campaigns for prominent clients like Nissan, Neste, Skoda, Suzuki, Unilever and Helsingin Sanomat (Finland's biggest news media).
Erno's work has been awarded both in domestic and international competitions including The One Show, Eurobest, New York Festivals and Effie.
On Judging:
New York Festivals: What are your personal criteria for choosing award-winning work?
Erno Reinikainen: It's always thrilling to witness people's creative solutions to real insights and societal problems. Even better, if the creative solution has had an impact on the society – made a change. Then again, sometimes we just need fun and exciting experiences that will turn heads. I also tend to think that a little anarchy in the creative solution never killed anyone, quite the contrary.
In addition, I strongly feel that the quality of the execution is extremely important. For the work to excel, the craft needs to be on the same level with the idea.
On Advertising:
New York Festivals: What was the hardest ad you ever had to create and why?
Erno Reinikainen: Probably turning a Nissan car into a huge PlayStation controller that could be used to play the 'Pro Evolution Soccer' console game.
It was few years ago that we got this brief from Nissan. They wanted us to create something innovative around their Champions League sponsorship deal, and we felt like it was the perfect opportunity to do something more than just regular sponsorship advertising.
So, we hacked the car and gave the football audience a chance to 'Drive Football' through a concept called 'Nissan Controller'. One Proof of Concept phase turned into a worldwide phenomenon, and we have now toured across the globe with this tech innovation, from Mexico to Middle East.
Also, creating a petrol smelling print ad for the Nissan GT-R sports car was rather troublesome. I can't even remember how many times we tried to get the scent right with a famous perfumer, and how many hours we spent testing the printing.
New York Festivals: In 3 words or less, what do you think about 6 second commercials?
Erno Reinikainen: A new playground.
New York Festivals: What philosophy drives your career?
Erno Reinikainen: Have the courage to fail and learn from your mistakes. Be brave but humble and trust your instincts. In the end of the day, it's just advertising.
Also, from time to time, I find myself acting by the definition of insanity: doing the same thing over and over again – and expecting different results. Although this kind of behavior drives some people crazy, I think that sometimes you need to be a little out-of-the-box to build a successful career in this business.
New York Festivals: What is your all-time favorite ad?
Erno Reinikainen: My all-time favorite ad has got to be the Old Milwaukee ad featuring Will Ferrell that ran during Super Bowl XLVI. I admire how brave both the creatives and the client were to execute something like that. Spending millions of dollars to show a comedian walking towards the camera – and then ending the ad in the middle of the punch-line. Fucking brilliant.